VQ Conference Manager Device Management and Automation (DMA) is our latest functionality. If it is new to you, this blog will provide useful information about setting up DMA, including importing data from Cisco's TelePresence Management Suite.
Before you start with DMA, here are a few essential things you should know…
It is important to note that within the initial DMA releases, the DMA functionality access control features are not yet enabled. However, DMA is an integrated 'module' of the VQ Conference Manger (VQCM). It requires a 'non-personal' user profile to access DMA using the '/dma' URL.
DMA has been designed to support the VQCM Tenant model. For each defined Tenant on a platform, there is a separate DMA 'container'. The devices of one Tenant cannot be seen or managed by the users (of any level) of another.

The main side-bar menu item allows a user to switch between the Tenants they have been permissioned for. This feature is designed to support environments where some users of DMA are responsible for the devices of more than one Tenant.

The current Tenant is displayed in the top left of the DMA page and can be used to switch between permissioned Tenants.

This is important.
DMA requires access to read from and write to Cisco devices (systems) at times during its operation. An account with 'Admin' level rights is required to do this. To align with security 'good practice', we recommend creating a dedicated 'Service Account' to do this.
If you already have such an account in use in TMS (this is often the default 'admin' account with a changed password), we recommend using this same account to avoid making changes to your devices prior to migration.
The Service Account is also specific to the Tenant, meaning that the security model is maintained at all levels.
Creating a Service Account
Before you log in to DMA, make sure your user has access to the Tenant. Then, log in to DMA and click on the "Tenants" menu item at the bottom of the main menu bar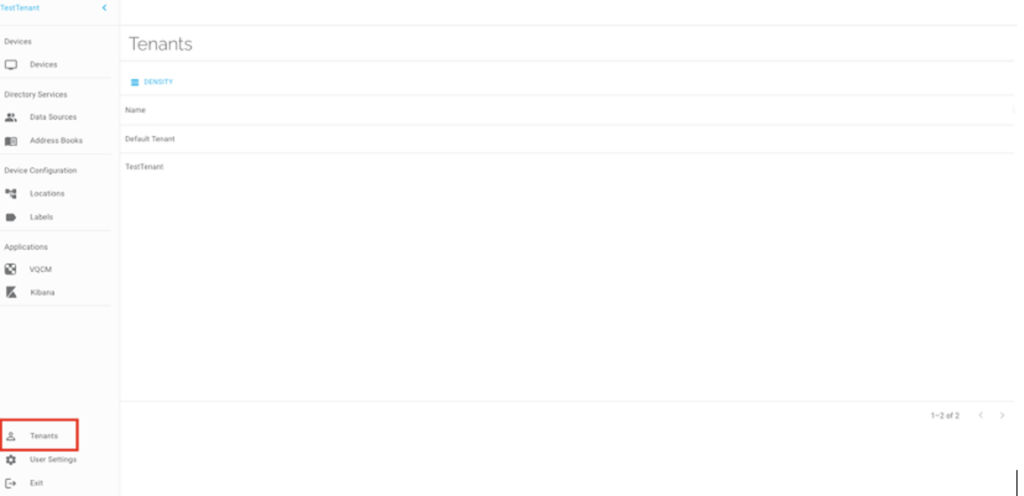 You will be presented with a page listing the Tenants on the VQCM server that you are permissioned to access. Select the Tenant that you want to set up the Service Account for.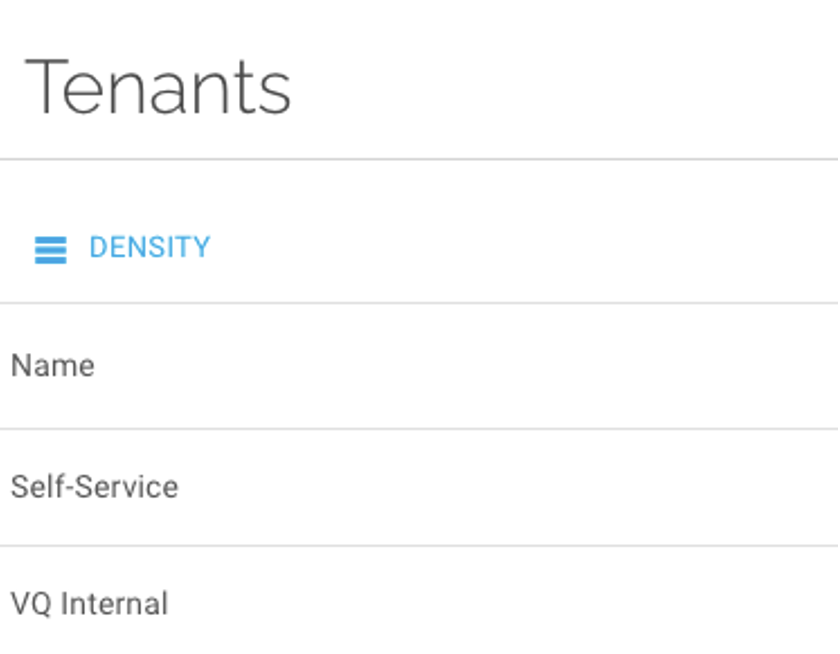 The resulting page has only two fields, Username (for the Service Account) and Password. Enter the Service Account name that you want VQ to use to communicate with endpoints and the password it will have.

Please ensure that you use a suitably 'strong' password that conforms to any organisation security policies. If you rotate passwords on a defined schedule, then this is where it should be updated.

Remember, endpoints must also be updated with the new password.
One of the greatest challenges faced when moving to a new management system of any kind is the migration of the data in systems being replaced.
VQ has addressed this with DMA. It provides tooling where it is possible to:
Extract data from an existing TMS system
Transform data
Load it into the DMA database
Please note: We recommend taking a copy/mirror of the TMS SQL database for migration use to avoid the risk of any performance impact.
In the initial '1.x' releases of DMA, we will provide tools that can be run outside of the DMA platform. These tools can be used to extract and load devices under management, Phone Books and configuration templates from existing TMS systems.
Interested in finding out more?
This blog discussing setting up DMA is one of a series of blogs. The others in the series cover:
For more information visit the Resources section of our website.
If you have any other questions and would like to speak with a VQ team member, please feel free to contact us:
Email: info@vqcomms.com