Grab your favourite holiday treat and delve into the VQ newsletter as we close out the year.
2022 has been full of milestones for the VQ Team, delivering exciting functionality for VQ Conference Manager and the first releases of our Cisco TMS replacement – DMA.
This month we hear from VQ's CEO, Mike Horsley, on what the future holds. We take a look at our 2023 roadmap and share our refreshed Black Belt training content.
---
Read on for
VQ's CEO previews the year ahead

A webinar packed with 2023 updates

VQ's upcoming trips and product releases

Refreshed Cisco Black Belt Academy content
What's new at VQ?

2023 is right around the corner – find out what's coming from VQ
Last week we hosted our final webinar of the year, sharing a glimpse of what's coming soon on VQ's product roadmap in 2023.
In this session, the team explored the new functionality we added to VQCM this year, as well as our upcoming releases for VQ DMA.
Watch the full webinar on-demand now
2023's Exciting Plans
The atmosphere at VQ is buoyant, as we look forward to rolling out VQCM 3.11 early in 2023.
Beyond our latest product release, we're also excited to share that we're at Cisco Live in Amsterdam this February.
We'll also be at ISE in Barcelona in January. Looking further ahead, we will also be at Cisco Live in Las Vegas and Infocomm in Florida in June.
If that wasn't enough, more partner and customer trips are also planned throughout 2023.
We'll have more details to share very soon, but in the meantime, update your contact preferences so you don't miss any updates from us.
Cisco Corner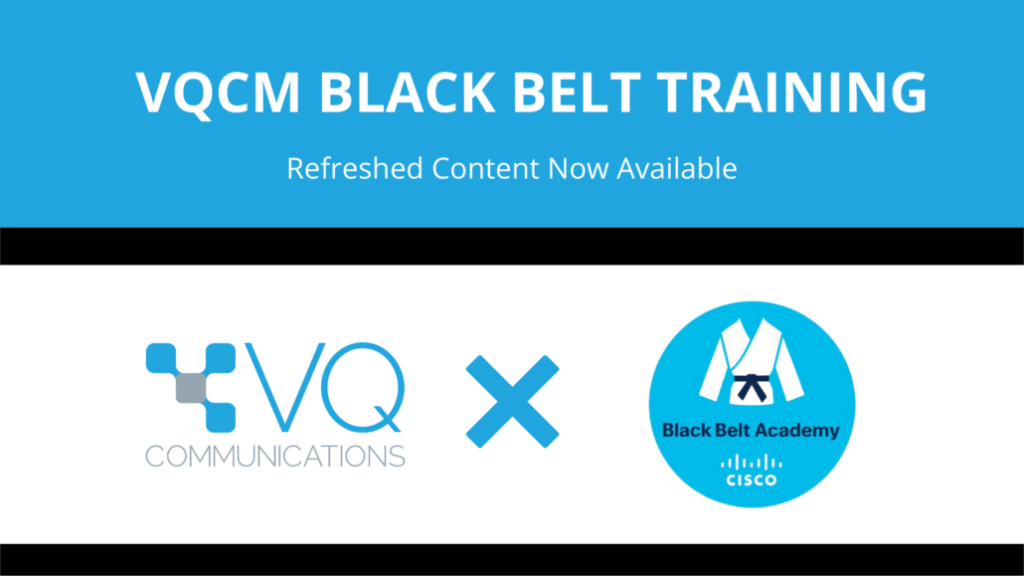 Our Cisco Black Belt is back
We're ready to share our latest Cisco Black Belt Academy content.
Want to learn more? Read our new blog with Cisco recapping the new training, which now includes information about DMA and how to migrate customers from Cisco TMS.
The feedback has been positive from the 80+ people who have used our Black Belt training – get started today.
Inside VQ
Wrapping up 2022 with Mike Horsley
"2022 has been a big year at VQ. I thought I'd outline some of what's been happening:
The team has grown quite substantially, we're now at 40+ people and it's always great to see new hires joining and becoming productive members of the team. Product management is now in the capable hands of Jon English and the last 18 months or so of process refinements have resulted in a very well-oiled product development process. This is a big deal as we want to ensure that adding more engineers results in a corresponding increase in output. Marketing has expanded substantially with a large addition of talent from the team at Bamboo.
Our TMS replacement functionality, DMA, is making good progress and about to take its next major step at 3.11. VQCM 3.9 introduced OBTP, VQCM 3.10 introduced TMS Style Hierarchical Phone Books and Directory Services. VQCM 3.11 is due to ship end of January and adds device Configuration for Cisco CE and RoomOS devices. Other nice "newness" coming in 3.11 includes CMS Snap-shots and a major lift on recurring meetings with the addition of PINs/passwords per meeting instance. The Outlook plug-in has also had a year-long upgrade cycle to add recurring meeting support, space selection and a range of configuration options to deliver the functionality required by the customer.
We're seeing strong demand for TMS replacement functionality and the relationship with Cisco is working incredibly well. 2023 looks like it'll be another exciting year.
To close, from all of the VQ team, I'd like to thank you for being such amazing customers and wish you a great Holiday season and New Year."