It's time for another VQ Communications newsletter where we look ahead to Cisco Live in Las Vegas and Integrated Systems Europe in Barcelona, the VQ team discuss their recent trip to Washington DC, and we cover what's happening in the Cisco community.
Read on for:
VQ's upcoming trips to Barcelona and Las Vegas
Steve Holmes joins the Webex Partner Podcast
Giles Adams shares his thoughts on his trip to Washington DC
Our latest webinar exploring all the features in VQCM 3.9
And plenty more
---
What's new at VQ?

The VQ team are preparing for ISE and Cisco Live
We're excited to return to in-person events, including Integrated Systems Europe conference in Barcelona on the 10th – 13th May, which Steve Holmes will be attending.
We have a bunch of fantastic features we're eager to discuss, including VQCM's DMA and how it's the ideal landing spot if your business is migrating from Cisco TMS. If you want to meet up with Steve at ISE, he's set up a Calendly event which you can access here. He'll be in contact with you to confirm a location.
Fancy a preview? Watch VQ Communications CEO, Mike Horsley, give the rundown on DMA.
Cisco Live is also rapidly approaching – the first in-person Cisco Live in two years. Taking place on 12th June – 16th June in Las Vegas, you can register to attend online or in-person your interest here. Our calendars are booking up quickly so let us know if you would like to meet at the event.
APL Update
Getting closer……The process of getting US DOD Information Network Approved Product List approval continues. One of the key milestones has been achieved and VQCM 4.0 based on RHEL 8.5 is progressing through its testing. We'll update you again next month.
Dive Deeper
VQ Communications Vice President of Sales, Steve Holmes, recently sat down with the team at Webex for their partner podcast.
On the podcast the speakers explore the development of VQ Conference Manager, how DMA will support migration from Cisco TMS, as well as some hints to exciting future features.
Check out the full podcast on Webex's YouTube channel.
Existing TMS users can still get a 20% migration discount for VQCM DMA until 31st October 2022 (in partnership with Cisco). Don't miss out, email info@vqcomms.com to find out more.
---
Inside VQ
A word from Giles Adams
VQ's Business Development Director, Giles Adams, shares his thoughts on a recent trip to Washington DC with Steve Holmes:
"It was fantastic getting out to meet customers and partners, while mixing in a bit of sightseeing for our business trip too. We had a lot of great, productive discussions with people about what's coming over the next few months.
We were conscious that technology migration can be daunting, but were really pleased with how receptive people were, especially after we reaffirmed the benefits of DMA. ISE and Cisco Live are right around the corner, so it'll be great to answer more questions during those trips."
Cisco Corner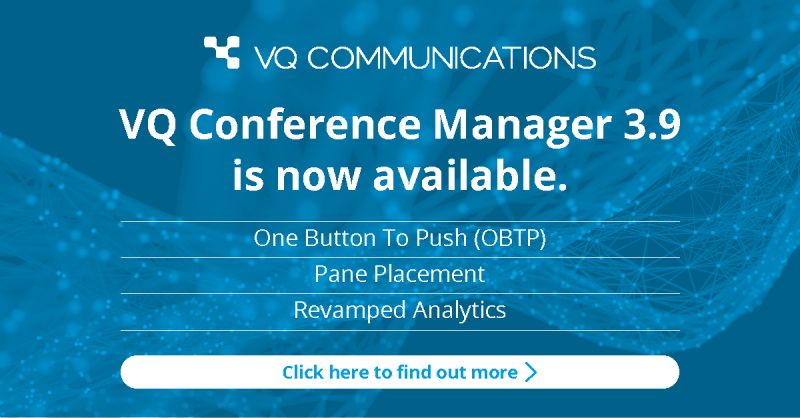 Biggest and best this month
Looking for some reading material? We highlight interesting content from the Cisco community and our own news-in-brief updates.
---