Welcome back to the VQ newsletter. This time we reflect on a successful trip to Cisco Live in Las Vegas, look ahead to Cisco Impact in August, and we highlight exciting features on the way with VQCM 3.10.
Read on for:
VQ's latest trip to Cisco Live, and what's next
VQ CEO Mike Horsley shares his Cisco Live experience
ThunderCat hosts the VQ team on its recent webinar
A new Cisco Black belt Stage 3 guide
And much more
---
What's new at VQ?
Celebrating the Cisco community in Las Vegas
For the first time since 2019, Cisco Live took place in-person with 6 members of the VQ team flying out to Las Vegas.
On both our stand, and meeting room, we were back-to-back in meetings with partners and both existing and potentially new customers.
Read more from VQ's CEO Mike Horsley on how the week went….
"Cisco Live was a blast. It's always great to be in Las Vegas just because it's so different from the very green and English everyday of living about 90 minutes west of London.
The scale of the Cisco Live events is always really impressive and there's always quite a kick being on the Cisco side of the floor.
We've been back about a week; the consensus is that we had a fantastic show. What was particularly nice was meeting all the people face to face that we work with as customers and partners. It's felt like a long time and so it was really great to sit down, talk and share a coffee or beer.
Some of the highlights from the event:
A pre-production version of VQCM 3.10 was on our stand demonstrating our first version of DMA in the form of TMS Style Directory Services. Our demonstrations were very well received. We used a collection of Webex Pros and Minis connected back to our systems at VQ Towers in the UK. A surprising number of people hadn't seen the Minis before and they were impressed.
Jon English wowed the crowd with his "TMS Replacement" presentation in the Collaboration Showcase.
We were back-to-back all week in the off-floor briefing room. DMA phase 2 (device configuration) looks like it hits the spot. The collective real-world, large scale, enterprise experience in the team of what worked in TMS and what didn't (or was missing) resulted in some very in-depth discussions about DMA's functionality and capabilities. Importantly, what we showed and how we answered survived the rigorous questioning and use case scenarios which was very pleasing.
One of our goals for the briefing room meetings was to validate future product thoughts and concepts which I'm pleased to say went well.
We went to Cisco Live with a sense of anticipation: how would it go and how would people react to the VQ 2022 story? The outcome: we had our best Cisco Live ever and the DMA/TMS Replacement addition to VQ Conference Manager is seeing very strong interest and order pipeline growth. We look forward to doing it again next year."
Thank you to all of you who followed us along on our LinkedIn and Twitter accounts. If you missed out this time around, stay tuned to our LinkedIn page for more in the future.
Dive Deeper
The excitement doesn't end there for our team.
Once wasn't enough for the VQ team in Las Vegas this year, as we will be back at Cisco IMPACT during the 29th – 31st August.
We'll be talking a lot more about VQCM 3.10 and what's on the way for the rest of 2022 and beyond.
Did you know?
Existing Cisco TMS users can still get a 20% migration discount for VQ DMA until 31st October 2022 too (in partnership with Cisco).
Don't miss out – email info@vqcomms.com to find out more.
---
Cisco Corner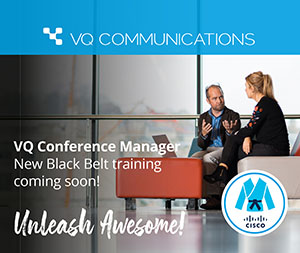 Biggest and best this month
It's been a busy few weeks for the Cisco and Partner community, so below are some highlights and news updates:
VQ's Steve Holmes recently joined ThunderCat Technology for a webinar focused on how businesses can migrate from Cisco TMS to VQ DMA. Watch here to find out more.
Cisco have published a helpful blog post explaining VQ's Stage 3 Black Belt training – enabling partners to unlock the full range of VQCM's product offering.
Curious about what new content was on show at Cisco Live? Luckily, all the event's best announcements have been curated under one roof here.
---
Inside VQ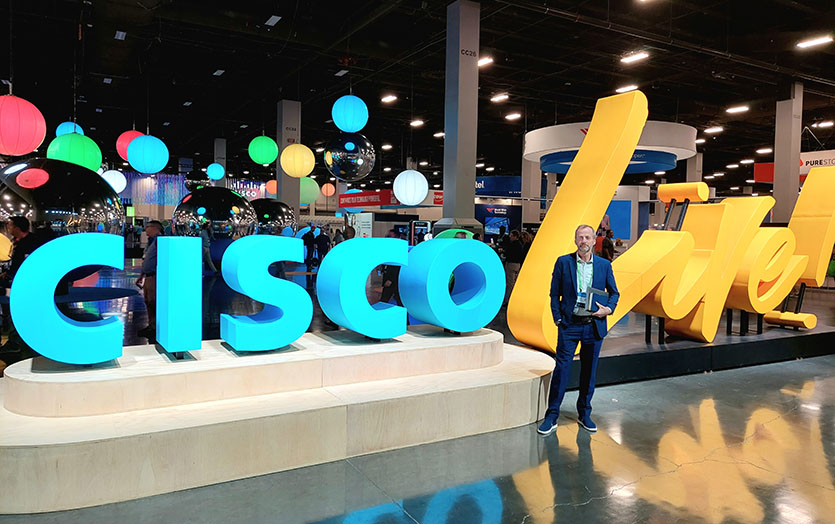 A word from Giles Adams
Finally, here are some additional thoughts from VQ's Business Development Director, Giles Adams, on his Cisco Live 2022 experience:
"Echoing Mike's words, it was fantastic to see the reception at Cisco Live for the product we've created. VQ Conference Manager DMA (the Cisco TMS replacement), really resonated with our audience. Interest was strong and we look forward to seeing our growth in pipeline translate into new business. Make sure you watch this space."