ISE 2017 redux – it's the cloud stupid!
OK so nothing surprising then (!) It's all about delivering services via the cloud and the subscription revenue model.
Let's recognise the show for what it is though, the UC section is a tiny portion of the RAI facility with the key areas taken up by the increasingly bright screens and projectors.
Call me jaded, but walking past yet another curved display – isn't this just like 3D TV – a solution looking for a problem to solve? And all those displays started to believe you would need to wear sunglasses to use them.
Hall 11 of the show was packed with companies talking about, and providing evidence that the cloud is now the major delivery mechanism for customers to connect. A smattering of black boxes and end points – a 4k Endpoint for $200's! But mainly lots of 42" monitors proudly showing impressive network topologies.
Cisco dominated the event with a huge stand, and pride of place was the Sparkboard. It was also great however to see Videxio, AVISPL and Starleaf alongside Pexip investing in the event.
It was also good to see the Lifesize Alumni Simon Dudley, Jon Tracey, Andreas Weinold and Mike McCarthy at the show with the new briefs.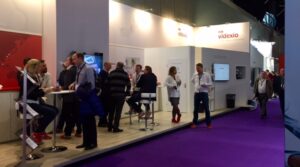 So that leads me to why go to ISE?
Like InfoComm, and a lesser degree Enterprise Connect, with one flight you can have 20 meetings. It becomes a magnet for scheduled, and walk up meetings. In a day and a half I squeezed in three scheduled formal meetings, and numerous "catch ups" with partners, customers and industry influencers.
Next stop, for me, Enterprise Connect at the end of March. No doubt I will meet the Lifesize boys again!
Giles Adams