In the third of this blog series Barry Pascolutti shares his thoughts and experiences on why VQ Conference Manager is as relevant in a smaller deployment as well as in larger deployments.
Are there any differences between large and small deployments?
In terms of feature sets, no. A user's experience should be exactly the same whether they are in a large or a small deployment and CMS was designed to be scalable from the outset from small to medium enterprises all the way to large service providers; the idea being that if you need more capacity you throw another box at it and everything scales up like that.
Very large conferences are obviously different from very small ones. The user experience is different particularly because you can't see everyone on the screen at once and you need more meeting control. You probably need a moderator in large conferences but the process of provisioning that conference should be identical, irrespective of size. The steps you take to start the meeting, join the meeting etc., they are all identical.
With larger scales you do have more redundancy. In a small deployment, you may just have a single box and so that's going to be a single point of failure. With larger scales you have more to do with your dial plan – do you have a regional versus a flat dial plan, or do you need to consider least-cost routing. All those sorts of considerations are important but the day to day operations between a large scale and a small scale should be absolutely identical.
Does VQ Conference Manager as a product stand up to the rigorous corporate standards for video conferencing?
Absolutely, we do. We have a 15 year pedigree, delivering video conferencing management solutions and we have developed our system in collaboration with some very large deployments and global organisations. We have gone along this journey with them. Today VQ Conference Manager is used by finance organisations, healthcare, private sector, public sector, manufacturers– all sorts of verticals all over the world. Organisations with the highest and most stringent standards for policy and compliance requirements.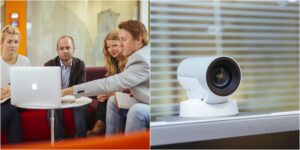 How does the VQ Conference Manager pricing model work for a small deployment?
We price on scale so it's designed to grow with your requirements. So if you have a small deployment the price will be at the low scale and as your requirements grow we will price it accordingly.
Is provisioning important for small deployments?
Yes for small and large deployments. Your users can't access the system until they have been provisioned and manually provisioning your users is going to be an administrative burden and overhead whether you are talking about 10 or 10,000 users.
Is integration with CMS licensing important for small deployments?
The CMS licensing integration is irrespective of deployment size. The importance of CMS licensing is not dependant on the size of deployment but more on what type of licensing you have. A shared multi-party license is a shared multi-party whether you have one or a 100 of them. With a personal multi-party, on the other hand, you need to make sure that you are using them when you are entitled to because there is quite a price difference between an SMP and a PMP. This true whether you have 10 or 10,000.
Is self-service important with small deployments?
Yes. Although it is easier for a video conferencing admin group to scale down to small numbers, i.e. the white glove, concierge operator managed conference, just because you can do a thing, doesn't mean you should do a thing. You don't set up audio conferences for example, for people. When was the last time you were asked to set up a very simple audio bridge? Everyone knows how to dial into their own audio bridge and it should be the same with video conferences. The technology is definitely there to make it simple, pretty much the same as dialling into an audio bridge, so we should use it. This is certainly true of large organisations but you should do it for the smaller ones too. And then when you are ready to scale that service, if your organisation grows, you can grow the size of your video conferencing deployment because your users are already used to self-service. That self-service paradigm will grow as your deployment grows.
Is controlling video from one place important with small deployments?
I think so. One could argue that the view from the CMS web admin presents pretty much the same information as the view from the operator view of VQ Conference Manager. But it doesn't allow the same call control. You can see what's going on but you can't control what's going on. The requirement to provide operator control of video conferencing exists however large your organisation or video deployment. You still have a need to control that conference.
Is Analytics important with small deployments?
This is another example of something that is important irrespective of size of deployment. Even if you have one call and one user, you still need the historical data to track your usage and you also might have issues you need to trouble-shoot.
And even what we are calling a small deployment might still involve participants from outside your organisation and might involve large numbers of participants. One shared multi-party license is not limited in the number of participants you can include in the conference. You are only limited in the hardware scale. So even with what we are calling small deployments, the scale could be very significant and that has the potential to mean you require Analytics and Reporting.
So, if you are considering a small deployment, or indeed a larger deployment of video conferencing and you want to see how VQ Conference Manager can form an integral part of your conferencing toolset, I'd be delighted to hear from you.
Click here to arrange a Product Demo