VQ Conference Manager for Cisco Meeting Server
Over the last three years, VQ's licensing model has evolved to better meet the needs of its customers and partners. Whether you're looking for an all-in-one solution or an a la carte deployment, this blog takes you through the changes we've made to streamline the process – making it easier to find what you need.
How does VQ licensing work?
VQ's licensing caters to standard configurations, as well as those that need FIPS/JITC compliance. There are three configurations to choose from to ensure you're getting everything you need from your VQ Conference Manager:
Enterprise Agreement
Enterprise Agreement PLUS
A La Carte
We keep our licensing as simple as possible – and have based all three configuration types on three primary parameters:
Cisco CMS licensing model
Number of users
Number of devices
What are the differences between the three licensing configurations?
You begin your configuration by choosing the type of deployment you require, Standard or FIPS/JITC compliant. From there, you have the three configuration types mentioned above.

A La Carte Licensing
We'll start with the configuration method with the most options, A La Carte. In this licensing method, you choose the number of deployments you require, whether you require High Availability (HA)*, and the number of shared (SMP) and personal (PMP) licences.
With the A La Carte configuration method, you can select the correct licensing type and quality to match the CMS configuration. You can also choose whether end users have access to the self-service apps. This build-your-own configuration method offers the flexibility you need with the technology you require.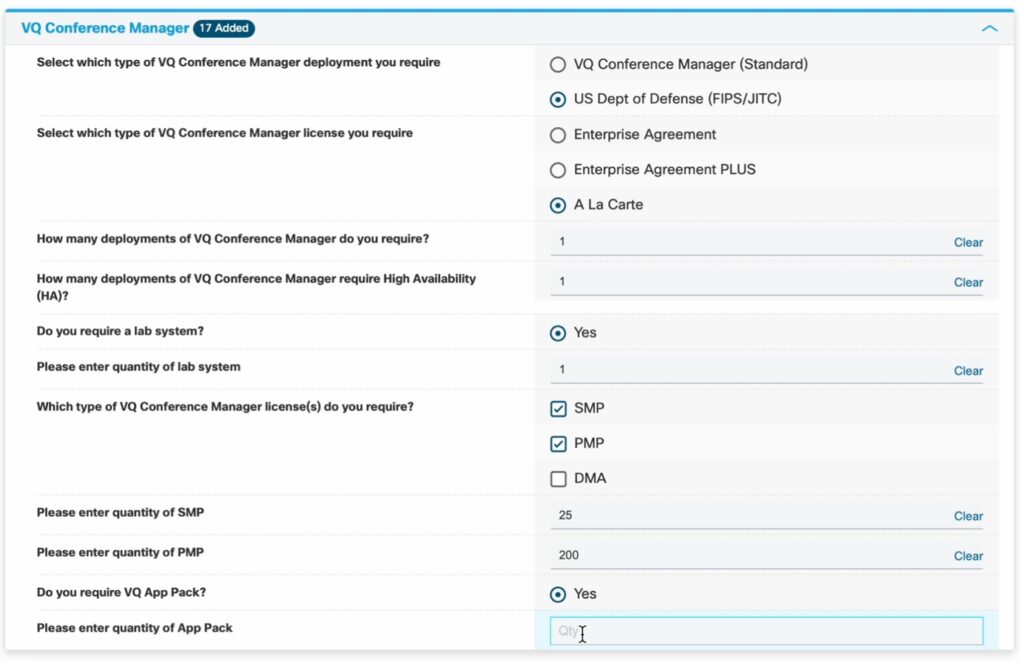 Enterprise Agreement
VQ bases its Enterprise Agreement configuration method on Cisco's CMS licensing model. So, if you previously used the CMS Enterprise Agreement, this option mirrors one you're familiar with – with a few VQ differences.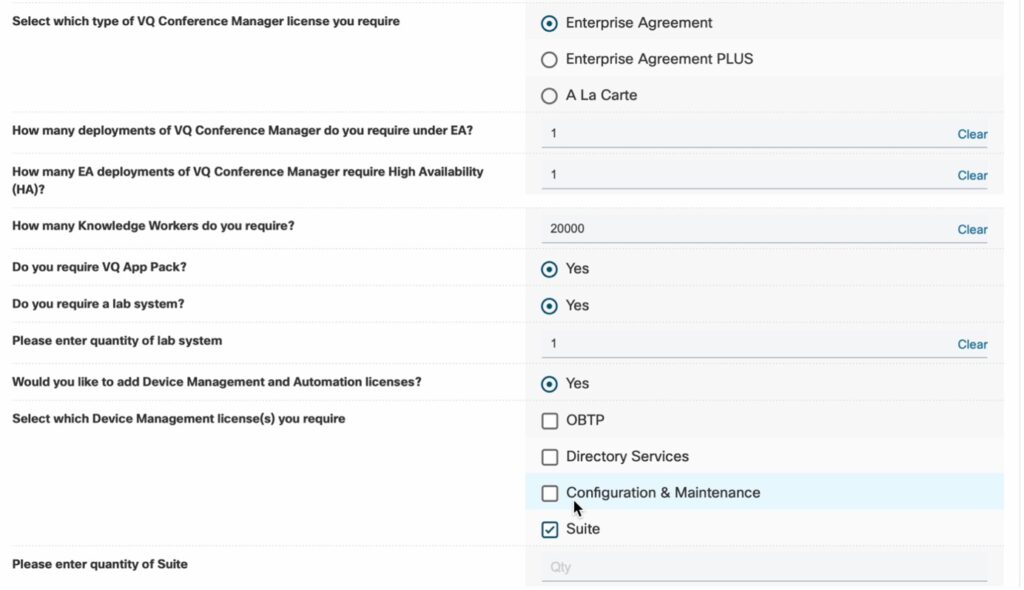 To align with Cisco's models, VQ has adapted its terminology and definitions. You can see this in A La Carte with SMP and PMP and the Enterprise Agreement with 'Knowledge Workers'.
Knowledge Workers are any user (employee or contractor) who will utilise the software and/or devices as part of their job duties performed on behalf of your company or organisation.
A difference between an A La Carte and an Enterprise Agreement is the purchasing basis. For A La Carte, you're buying per-user, while an Enterprise Agreement is company-wide.
Additionally, the A La Carte and Enterprise Agreement allow you to add Device Management licenses separately for One-Button-To-Push (OBTP), Directory Services and Configuration and Management. Alternatively, you can opt for 'Suite', which provides all three.
Note: The number of Device Management licenses required is based on the number of devices – not the number of users.
Enterprise Agreement PLUS
New to VQ licensing for 2023 is Enterprise Agreement PLUS. EA Plus makes licensing effortless.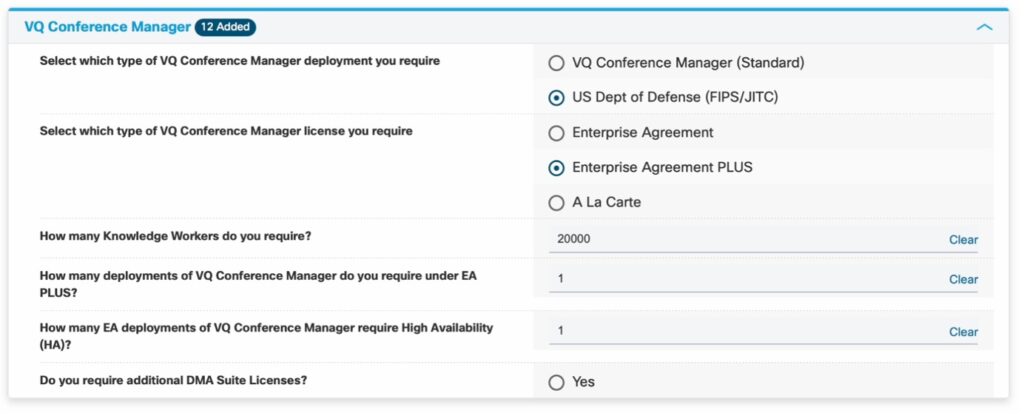 There are fewer options to choose from in this configuration. Simply enter the required number of Knowledge Workers, how many deployments and whether you need HA*. Under this type of configuration, several features come as standard, including:
VQ App pack for all Knowledge Workers
VQ Lab
DMA Suite Licenses (based on one device licence for every 25 Knowledge Workers)
Initial VQ Conference Manager Node
Should the included DMA Suite Licenses not be enough, you can add as many as you need.
Understanding VQ Conference Manager Licensing Basics
Before choosing the type of configuration you need, it's essential to answer a few questions:
How many deployments do you require?
Will you need High Availability (HA)?
Do you require a Lab System?
Do you want access to the self-service applications?
Do you want to purchase on a per-user or implement a company-wide deployment?
Deployments
Deployments represent the number of VQ instances covered under a license. Multiple deployments are primarily seen in the Enterprise Agreement, where customers run several platforms for geographic reasons, business units or separate networks.
Enterprise-wide licensing is a cost-effective solution. The first license is included as part of your Enterprise or Enterprise PLUS agreement, while all subsequent licenses are chargeable.
In addition to the standard node or deployment, VQ will soon offer High Availability servers. These are three-node servers versus the standard single-node.
Lab Licensing
For customers who wish to run a system in a lab environment, VQ provides Lab Licensing. Running a lab alongside a production environment is something VQ recommends. It enables businesses to implement upgrades in a controlled environment, test updates and allows for the replication of issues for troubleshooting. You can add this for a small additional cost.
VQ App Pack
The VQ App Pack is ideal if you want to use mobile apps, Outlook add-in or Jabber add-in.
When you purchase VQ Conference Manager through an Enterprise Agreement, you buy apps for all Knowledge Workers. Alternatively, if you're purchasing your solution A La Carte, you'll need to specify how many of your users will need apps as part of your deployment.
Advanced Analytics
VQ's advanced analytics is licensed on a per-deployment basis. When customers have multiple VQCM deployments under their core license, each deployment will need its own analytics license.
For more information about VQ's Advanced Analytics, get in touch with our team so we can help.
VQ Conference Manager Licensing – Next Steps
We hope this article has helped explain the available VQCM licensing options. Determining the most suitable CMS licensing model for your organisation should be discussed with your Cisco partner or account manager.
Feel free to send your questions to info@vqcomms.com or join the AskVQ Webex space here…