VQ Communications is delighted to announce the latest update to VQ Conference Manager 3.11. In this blog, we'll discuss the new features and enhancements you'll find in the latest release. Interested in what's new in Meeting Services in VQCM 3.11? Read on…
VQCM 3.11 New Features…
1. CMS Snapshot functionality
For those of us that have been around conferencing and collaboration for some time, the video preview images that used to be available on the previous generation "Codians" have been sorely missed. Therefore, it is great to be re-introducing video Snapshots to the Activity page.
Snapshots are enabled on Cisco Meeting Server (CMS) via a CMS license key. It can be purchased from Cisco. Once you have the CMS license key installed and are logged in as an Administrator, enable "Snapshots" on the People CoApp, at the UX Profile.
Please note: Snapshots are "expensive" in the terms of CMS resource consumption and should only be used sparingly.
We have produced an extensive test report and will make it available as a whitepaper shortly after releasing 3.11. The report shows how this functionality performs under different CMS call loading levels.
So, please work on limiting Snapshot usage to 25 participants across all Operators with Snapshot visibility enabled. VQ's implementation of this option caches the Snapshot data to minimise the loading on CMS.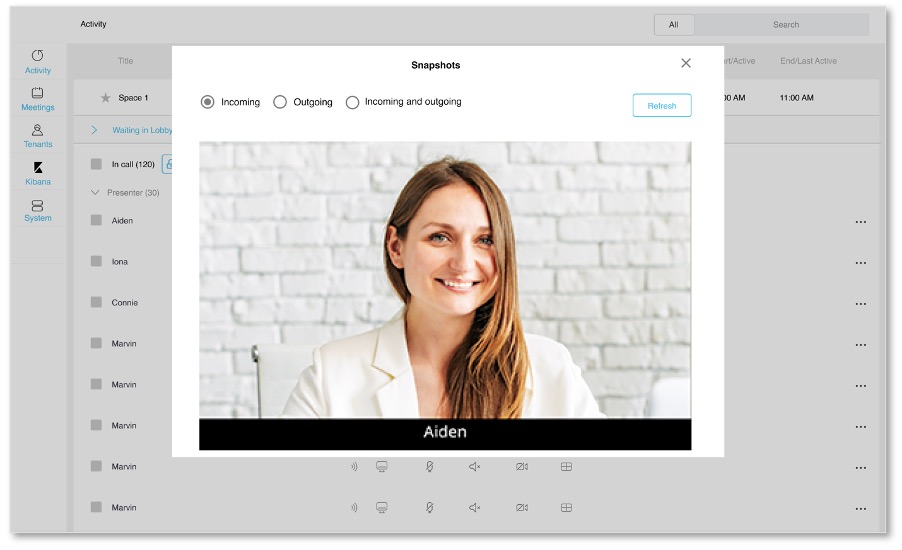 The Snapshot is requested via the three ellipses button on the right-hand side of a participant row: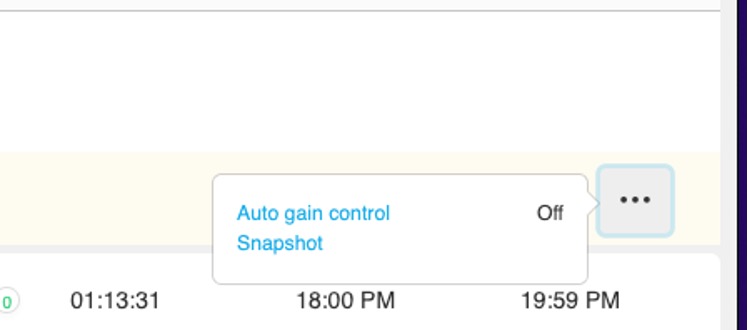 2. Support Recurring Meetings on Temporary Spaces
We're delighted to share that Recurring Meetings can now be scheduled on Temporary Spaces. The underlying Temporary Space is locked in all periods where no meeting is scheduled and when the recurring meeting sequence completes, it will be deleted.
3. Support One-Time Pins/Passcode on Recurring Meetings
Recurring Meetings on Temporary or named Spaces can be scheduled with each meeting instance having its own PIN/Passcode. Administrators can enable this feature by checking "One Time Passcode" on the Space Template for the type of Space used to host the Meeting.
Please note: One-time pins will be generated using the following rules:
OneTimePins will only be changed for those Space roles who have auto pins enabled. This allows the hosts to keep the same pins for "hosts" if desired.
OneTimePins will be generated such that they match the pin complexity rules for the Space.
Space roles where there is no pin value set will be left unset.
For recurring meetings with Pin per meeting instance, the "auto generate passcode" option on the Space Template role also needs to be set.
In VQ Conference Manager 3.11, only generated PIN/passcodes are supported. We plan to enable user definable PIN/Passcodes in a future release.
Please note: Delivering this feature requires complex logic in the core of VQCM. The feature is new, and we strongly recommend it is adopted cautiously and not used in business-critical meetings until you are comfortable it is working as intended. For the 3.11 release, we consider this feature to be "experimental".
In addition to these great new features in Meeting Services, we've also added Device Configuration to VQ DMA.
Blog – What is Device Configuration?
Interested in finding out more?
This is one of a series of blogs. The others cover:
Setting up DMA & importing data from TMS
And what does Cisco say about migrating from Cisco TMS to VQ DMA? Read this blog.
Our website is full of useful information about our products. Visit the Resources section of our website for further details.
If you've any other questions and would like to speak with us, contact us: