VQ Conference Manager – Features Blog
One Button to Push (OBTP)
Our VQ Conference Manager (VQCM) product is used by customers globally to support today's flexible working models – delivering Unified Communications services on Cisco infrastructure and devices.
It is a comprehensive platform and includes many useful features.
To help you make the most of VQCM, we're producing a series of feature blogs.
In this first one, we'll focus on one of the most recent product features – One Button to Push.
One Button to Push (OBTP) makes it simple for users to join a call using a physical in-room Cisco conferencing endpoint.
Meetings scheduled via VQ's Meeting Scheduler, Outlook Plug-in or VQCM API can be scheduled to include OBTP-capable Cisco devices. Once scheduled in VQCM, the device's OBTP meeting schedule is updated, and just before the meeting start time, the device will present a "Join" button on screen or via its Touch Panel display, enabling a quick and straightforward way of joining the meeting.
One Button to Push (OBTP) is available from VQCM 3.9 and is licensed as a separate feature. Please contact us or join our Webex Space for more information.
How to Use One Button to Push
If you've never scheduled a meeting through VQCM before, our comprehensive user guide has everything you need to know before you begin.
So how do you use OBTP? Let's have a quick run-through.
To begin, we're going to schedule an OBTP meeting on VQ Conference Manager. We need to fill in the schedule meeting page as we would with any other meeting scheduled through VQ Conference Manager.
The only difference between this meeting and meetings previously scheduled in VQCM is that there is a new OBTP option, which needs to be checked.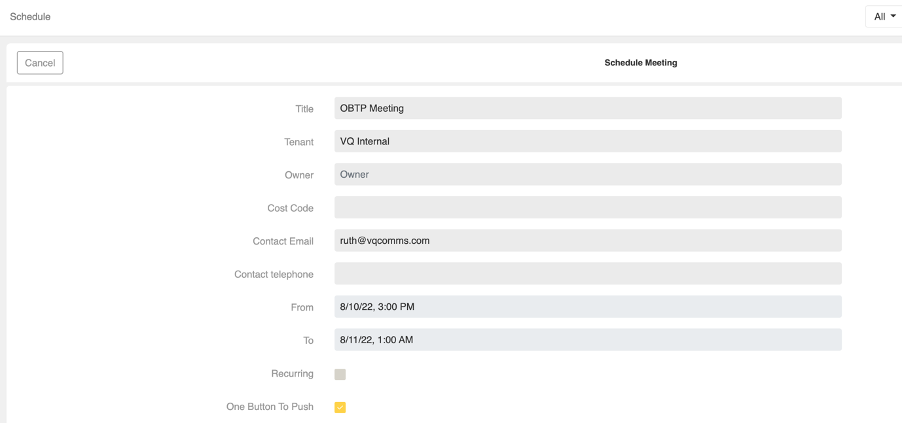 The meeting setup window looks like the screenshot provided. First, you need to give the meeting a title. In this example we've called it OBTP Meeting.
Then, you need to give the meeting a start and end time. These are the times which will be displayed on the device screen. Other options are available, including setting this meeting as a recurring meeting in your calendar.
When it's time for the meeting to start, the system will display a green 'Join' button on the screen.
Remember to check the OBTP check box before proceeding.
Next, you need to select the device(s) you wish to use to join the meeting.

In this example, the meeting has a pre-defined passcode. The passcode is defined within the Space Template. A randomly generated passcode is automatically filled into the template, but if you want to change the passcode you can.
Click Done and that's the meeting scheduled.
How to Join a VQCM One Button to Push Meeting
In our example VQCM OBTP meeting, we've invited DeskPro into the call. DeskPro will be provided with the details of the meeting and how to join.
When it's time for the meeting to begin, the green 'Join' button will appear on the screen. To join the meeting, it's just a case of pushing the Join button and you're in. It's that easy.

Thank you for taking the time to read this short blog and look out for our next blog in our Feature Series at https://www.vqcomms.com/blog/.