In what is becoming a regular travel update, I wanted to tell you about my latest trip: this time to the USA. On paper, the schedule looked gruelling: New York, Philadelphia, Washington DC and Orlando all in a week. But I actually got plenty out of the trip both personally and professionally.
Between customer visits in New York, I had time for some sightseeing (Empire State, Central Park, the 9/11 Memorial) and I appreciated for the first time the ubiquity and convenience of a certain ride-sharing service. I use it at home, of course, but it has only just started in my area and the sheer facility of it across the Pond is on another scale, not just in NYC but all over the US. It's not an exaggeration to say Uber has revolutionised the taxi business. I think there are analogies here too, with the way VQ and CMS, with their scale and convenience, are enabling video conferencing to become a ubiquitous, self-service facility that people just 'use' without having to plan or book.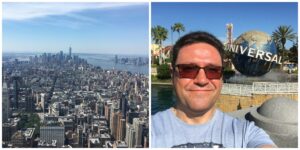 Then onto Philadelphia to give 2 days of training for one of our key US partners; product development, road map and answering specific customer queries. These sessions are a great opportunity to really understand how VQ Conference Manager is being used in real life situations. We believe that scalability and self-service are key drivers, and these sessions re-iterated for me the sense that we are hitting the mark on these, both now and with our product roadmap. Subsequent customer visits and product demonstrations built on this. It is always very pleasing to see VQ Conference Manager in use and to hear from customers how it is assisting the adoption of video and the associated benefits of this.
As an aside, I was also reminded several times of the adage about UK and US being two cultures separated by a common language as I was corrected on my pronunciation of "schedule". This is a word one uses a lot during a demonstration of VQ Conference Manager and not putting the hard 'c' in it tends to get noticed.
Unfortunately, there was no time to see "The Rocky Steps" or the Liberty Bell as I was on a tight schedule (with hard 'c') to get to Washington. And from there to Orlando and the InfoComm 2017 trade show.
Infocomm is a great way to connect with partners and customers, see what is happening in the wider industry, attend the user groups and side meetings and feed this back into our roadmap and product development teams.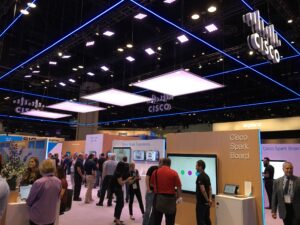 So to wrap up, all in all, a hugely rewarding trip. I see the UC industry as a whole, the video conferencing industry and VQ Communications in particular, continue to build momentum and deliver excellent collaboration solutions.
Now I'm back from the US, we're planning our next programme of webinars. Watch out for further details in the next few weeks.