In VQ Conference Manager 3.9 we introduced a completely fresh Analytics experience…..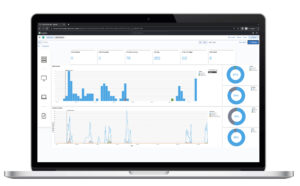 Real-time summary
A new high-level overview dashboard gives administrators a real-time summary of your unified communications system, including the number of:
• Active meetings
• Participants in calls
• Online and offline call bridges
Timelines and drill-down opportunities
In addition, it contains timeline views of key historical data, covering the central pillars of your conferencing service:
• Meetings/Spaces
• Participants and endpoints
• Tenants
• Call bridges
The timelines are designed to convey the core insights administrators will need in an intuitive way. They also include drill-down capabilities, enabling administrators to explore the data in greater depth.
For example, the Meeting timeline provides a quick overview of when calls took place. Drill down first to see the individual calls, and then to see the timeline of each call, including when participants joined and left, as well as the quality of their in-call experience, based on levels of packet loss.
You'll also find tables of the data behind each visualization.
Documentation
There's comprehensive documentation on the available data and how to use it. Administrators can access this from within the VQ Conference Manager Analytics platform.
Legacy dashboards still available
The Kibana dashboards available in VQ Conference Manager up to version 3.8 are still available, for administrators who wish to continue using them.