If you're planning to roll out a new service to your users, you'll probably discover that most people don't like change. Change is unpopular and disruptive. For example, if you choose one business messaging tool and everyone adopts it and is happy with it and you suddenly make a policy decision to move to a completely different messaging tool, that kind of thing is hugely disruptive to your business. It takes months during which your staff are less productive than they would be. The same is certainly true of video conferencing.
So that means when you plan your video conferencing service – how people interact with the service, how people use the service, how people create their Spaces, how people behave in the meetings, the policies you define for access codes and your dial plan – you have got to have that right at the beginning so you know that how people use the service and behave will be the same, not just next year but in 5 or even 10 years time.
You need to have a toolset that allows you to do this.
So, what toolset?
Good management software can be the difference between a successful video conferencing service and an expensive failure. So when you pick a management platform, here's what it needs to be capable of if it's to be viable in the long term.
Self-service – the only way you are going to deliver a video-conferencing service which will grow sustainably is to offer your users self-service. This means your users can – and have the confidence to – create and dial into conferences themselves. They can schedule their conferences using tools already familiar to them. They need to be able to control their calls, adding people to the conference, know how to control and edit their PINs and be confident that their Spaces are always available. To scale it's key that they are self sufficient. It doesn't scale if they have to rely on a service delivery team.
Consistent and tailored in-call experiences – not only do your users need be confident that their Spaces are always available, they need to know what everyone in the conference is experiencing – i.e. screen layouts for you and the other participants and that the in call experience is consistent, each time they make a call.
Automation and reporting – you need to ensure your administrators and call operators have the tools they require to sustainably manage and maintain a video conferencing service. The larger the service grows, the more important this becomes.
For example, they need ways of keeping tabs on large numbers of calls and spotting potential problems before they affect your users. Automated alerts are therefore a must-have, as are analytics tools that show how all aspects of your service is operating.
Administrators also need an easy way of provisioning the service for users and maintaining appropriate access to the service as people join, move roles or leave. Particularly in larger organisations, these sorts of changes happen daily, so manually updating the video conferencing service user database isn't viable. You need a management tool that integrates with your enterprise user management system and automatically keeps itself updated.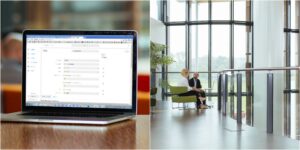 Then there's reporting, which will play a vital role as your video conferencing service grows. First off, when you make a big investment like this, your sponsors will want to see it delivering returns, so your administrators need tools that enable them to demonstrate this. Second, because your service will invariably grow, you need to be able to forecast when you'll require further capacity. And thirdly, these forecasts will provide the evidence you need to support future business cases for expanding the system.
So that's the tools – what else does VQ do?
There's probably a lot riding on the decisions your organization makes about its video conferencing tools: you need to ensure you make the right choices for the long term. This is why it's best to minimize risk by choosing tools that have proven themselves capable of supporting businesses as they grow their video conferencing services.
VQ has proven itself on this growth journey.
In terms of scale, we have 100's of customers, including some that are very large. One of our biggest customers has 50,000 users and that is across a CMS estate of 8 nodes. Another customer has a similar size CMS estate, and they are using our Analytics reporting engine which reports 20 million minutes of conference per month. Across all our customers, we are confident that within a year, we are going to see 1 billion call minutes per year.
VQ goes on the journey with customers.
This particular customer started small and VQ were with them all the way. Prior to CMS, with their previous conferencing infrastructure, VQ was their conference management product of choice. We have been on this journey with them for a number of years now, from their first, initial small handful of calls, right up to this 20 million minutes per month.
So if you want to see how VQ can form an integral part of your video conferencing toolset I'd be delighted to hear from you.
You can arrange a Product Demo from info@vqcomms.com