For decades, organizations have relied on Cisco TelePresence Management Server (TMS). It has been used on-premise as a part of Cisco Meeting Server and Cisco video conferencing device ecosystems.
Having developed our Meeting Services functionality, for CMS and a strong user base, VQ began to be asked by numerous customers whether we could expand into device management and started looking at the option seriously.
Roll forward and in conjunction with Cisco, VQ has developed VQ Conference Manager DMA (Device, Management and Automation). DMA is designed as the on-premise replacement for TMS.
While DMA's initial focus is to provide a suitable replacement for TMS for customers, DMA is not designed as a TMS clone. Instead, as with the existing Meeting Services capability of VQCM, DMA brings plenty of 'VQ feature goodness', including;
Directory Services

– Includes a 'folder per address book' view on Touch and Navigator panels
Device Configuration – A redefined the approach to building, scaling, and managing the complexity of configuration templates for large environments
Device Maintenance – Advanced endpoint security and certificate management, automation of tasks and workflow and branding/software file storage & management.
Interested? The most recent in our DMA blog series, we discuss VQ DMA, including how to use it and available features. Read on for more information.
Page Features and Layout
Let's look at the DMA UI.
Depending on role restrictions, the UI may look differently.
When viewing the UI, administrators have full access to DMA. Users with restricted permissions with not have access to all menus and options. The examples used in this blog are from an administrator view.
Side Bar Main Menu
DMA functionality is grouped by main categories in the side bar menu
Devices
Directory Services
Device Configuration
Applications
Tenants
Users
Exit
Exit

Navigating through categories works in the same way. The following are the key concepts:
Drop Down


Lists

Filters

Tabs

Add to List

Edit a List Action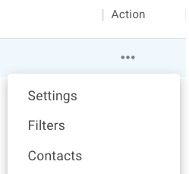 Logging into VQ DMA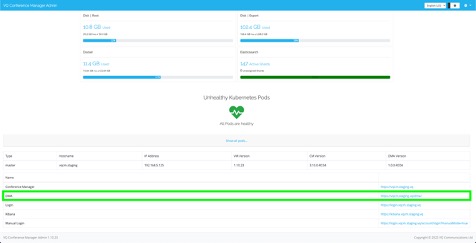 How do I migrate to VQ Conference Manager DMA from TMS?
Migrating to DMA is relatively straightforward. It begins with moving all TMS 'Bookings' to Conference Manager. Once complete, move to switching endpoints to use VQ's Directory Services for Phone Books.
Using this guide and our DMA Device Configuration Blog , you'll migrate your 'Persistent' templates and bulk changes to Device Configuration. Then finally, you'll onboard your devices.
If you want to discuss migrating to VQCM's DMA, please contact us using one of the methods at the end of this blog.
Interested in finding out more?
This is one of a series of blogs. The others in the series cover:
Our website is full of useful information about our products. Visit the Resources section of our website for further details.
If you've any other questions and would like to speak with us, contact us.
If you've any other questions and would like to speak with us, contact us.
Email: info@vqcomms.com